Welcome to our KRAFTMAID CABINETRY page.
Here you will get a general idea of cabinet design and layout possibilities.
Please don't hesitate to contact us or stop by our showroom if you have any questions
Showroom 2430 Plainfield Road, Suite 1D. Crest Hill, IL 60403
815-744-7555 ctopman2@gmail.com - ctopman2@aol.com

KRAFTMAID QUALITY CABINETS - HAND BUILT ONE AT A TIME.
If you're not already familiar with the Kraftmaid name and their reputation for excellence, please take a moment to review the three main reasons shoppers consistently choose Kraftmaid as their source for cabinets and accessories.
Kraftmaid Cabinetry focuses on helping consumers create the kitchen of their dreams.
Rigorous construction methods are standard in all Kraftmaid.

All hand assembled from quality materials, the results are semi-custom cabinets

with a custom look.
Kraftmaid's 14-step furniture finish delivers one of the most durable, long-lasting

finishes in the industry.
All Kraftmaid Cabinetry carries a "Limited Lifetime Warranty".

You will not find a better warranty in the Industry!
Below is a representative sample of our partial cabinetry line, which includes a wide variety of high quality styles and designs at affordable prices.

KRAFTMAID OFFERS 45+ Finish Options
100 + Door Styles
200 + Storage Solutions
1000s of Choices

Cherry Natural
Placing a cooktop over a drawer bank? Not a problem just add Scoop Top Drawer reducing the drawer height to 2 1/4"
Cherry Antique Chocolate with Mocha Glaze
Warming Drawer can be added to any Base Pot & Pan Storage cabinet
Maple Ginger with Sable Glaze
Cherry Antique Chocolate with Mocha Glaze Kitchen
All Doors and Drawers have the Soft Close feature as Standard.
Natural Maple Chopping Block Table
Maple Garnet with Ebony Glaze Island
Maple Cognac Island
Hickory Honey Spice Kitchen
Cherry Sunset Kitchen
Maple Toffee Kitchen
Add an Under Cabinet Shelf next to the range for extra off the counter storage
Quartersawn Oak Toffee Kitchen
Most cabinets can be constructed with extended stile(s) upon fabrication, doing away with fillers.
Oak Kaffe Kitchen
Maple Praline with Mocha Highlight Kitchen with Cherry Peppercorn Island
Maple Praline
Maple Praline
Most base cabinets can be constructed to any depth under 24" (reduced depth) allowing for custom sizing.
Toe kicks can be voided allowing decorative feet to be used under the cabinet
Most wall cabinets can be constructed for custom depth upon fabrication, either increase or reduce the depth of a cabinet.
Kraftmaid offers 8 different custom cabinet construction options, depending on your preference and budget.
Cherry Cognac
Rustic Birch Praline
Cherry Cognac
Cherry Sunset
Cherry Kaffee Kitchen
Like to add Glass doors? Don't forget to add matching interior so the inside looks as great as the outside.
Cherry Burnished Ginger
All cabinet shelves are 3/4" thick wood construction.
Hickory Honey Spice
Maple Kitchen in Sage
Maple Kitchen in Dove White
Quartersawn Cherry in Rye
Cherry Hutch in Rye
Like the look of no toe kick around your Island or on the end of a cabinet run, order the cabinet toe recessed, just that simple
.
Vanderbilt Maple Mushroom
Vanderbilt Maple Mushroom
Seyton Maple
Sedona Maple Dove White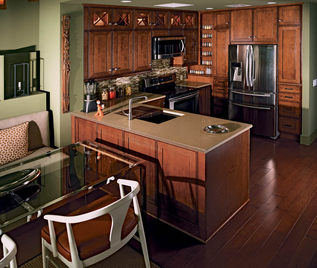 Putnam Maple
Avery Cherry Sunset
Cherry Sunset Glass
Cherry Sunset
KRAFTMAID. ALWAYS THINKING. ALWAYS CREATING.
Everyday Kraftmaids team of engineers and designers search for new and unique ways
to make their cabinet design even more outstanding.
They are committed to maintaining their position as the industry leader.

Kraftmaid Cabinetry received the highest numerical score among cabinetry brands
in the J. D. Power and Associates 2011, 2012 & 2013 Cabinet Satisfaction Study.
Kraftmaid Cabinetry for Quality, Service and Value!
Contacts 815-744-7555 ph / 815-744-3308 fx
Look for the Kraftmaid name; a name you can trust. Kraftmaid: number 1 in the Country for Quality, Service and Value.
Turning Point Cabinetry
Where service after the sale is as important as the sale itself.
2430 Plainfield Road, Suite 1D Crest Hill, IL 60403
Note: Not all Doors and or finishes may be available at time of order.