A common homeowner regret after building or remodeling is the lack of built-in storage. Kraftmaid Storage Solutions is one of the most comprehensive storage solution lines in the cabinet industry. With over 200 innovative options, your sure to find a place for everything. Kraftmaid® It becomes organized.
Cutlery Section
Double File Drawers
Open Wicker Baskets
Roll-out CD holder
Sink Base Door Storage
ANN ARBOR, Mich. – This past fall, KraftMaid® Cabinetry has silenced slamming cabinet doors with the launch of the Whisper Touch™ hinge. The soft-close feature is incorporated into the actual hinge, unlike other silencing products that require theinstallation of an accessory device at the jobsite. By removing the need for the extra device, the cabinet architecture has a cleaner overall appearance when the door is open, the need for field installation is eliminated, and costs associated with an extra device and cabinetry repair can be reduced.
"Whether you're looking to prevent harm to little fingers, reduce cabinet wear and tear, or avoid the thud of slamming doors, the Whisper Touch hinge is a perfect addition to cabinets," says Sarah Reep, director of designer relations and education at KraftMaid Cabinetry. "Soft-close hinges can transform a kitchen's environment from calamity to calm."
The Whisper Touch hinge follows the soft-close drawer launched by KraftMaid, which standardized soft-close hinges within the industry, is built into the runner system and prevents the drawer from slamming shut. The device has become standard on most semi-custom and custom cabinetry.
Tiered Cutlery Divider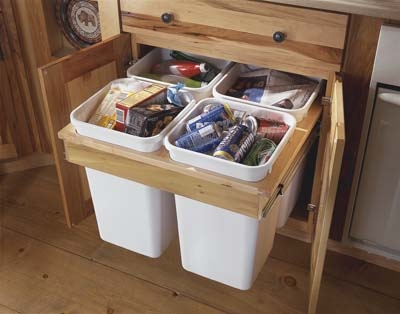 Base Recycle Center
Adjustable Maple Drawer Divider
Cutlery Divider
KraftMaid
brings you smart storage solutions for your pantry essentials and cooking ingredients. With roll-out trays and rotating shelves, your nonperishables are beautifully organized and displayed for
easy access
. It's about smart storage, so you always know what's in stock.
Bread Box Drawer
Multi Storage Pantry
High Back Trays Desk unit
Base Mixer Shelf
Maple Super Suzan with interior light
KraftMaid Storage Solutions return your attention to preparing a delicious meal, not rummaging through your
cabinets
for that missing bowl. Lazy Susans and roll-out trays provide
easy access
to small appliances and serving platters, while extended shelves create additional counter space for chopping and mixing. It's time to enjoy cooking again.
Base Super Storage
Base Cooking Center
Deep Range Base
Veggie Basket Kit
Roll-out Waste Container
Wall Pantry Pull-out
Base Cookware Storage Roll-out
Wall Filler Pull-out
Vanity Pantry Pull-out
Vanity Filler Pull-out
Base Multi-Storage Pantry
Wood Tiered Combo-Drawer
Wall Top Hinge
Baking Center
Wall Lateral Bi-Fold
Base Pot and Pan Storage
Wood Lazy Suzan
Drawer Divider
Under Sink Storage
Create a kitchen that's completely customized to the way you live. KraftMaid Storage Solutions let you produce a work surface from thin air with a pull-out table, centralize your microwave essentials in a tidy
bank
of drawers, and stash life's odds and ends in stylish
wicker
bins. Everything has its place.
Deluxe Dovetailed Full-Width Tray
Adjustable Drawer Dividers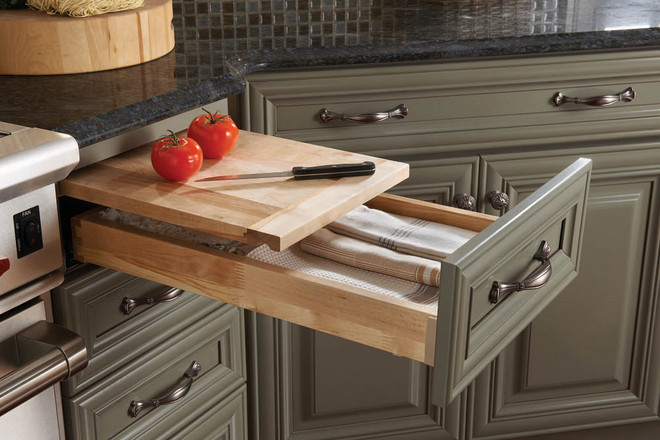 Drawer with Cutting Board
TURNING POINT CABINETRY
15130 South Rt.59 Plainfield, IL 60544
815-744-7555 ph
815-744-3308 fx